The Global District Energy Climate Award and its event is the occasion where outstanding innovative projects are awarded. We are delighted to confirm that the #21GDECA, the 7th Global District Energy Climate Awards Ceremony, will be hosted by APUEA, The Asian Pacific Urban Energy Association – on Thursday, 11 November 2021 in Bangkok, Thailand.
www.apuea.org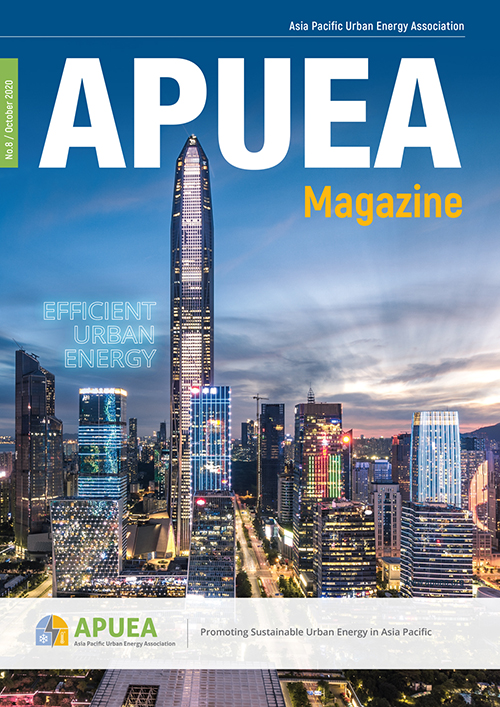 Read the latest urban energy magazine from Asia Pacific
In the eighth issue of the APUEA Magazine, we present energy efficiency trends in Asia and how planning is the key to help create more sustainable cities. We provide insights into a best practice district heating system in Inner Mongolia, China, and district energy contributions in climate change and circular economy. We explore the innovative multi-energy system in Xian, China, how smart operation and maintenance help maximize efficiency for Asia-Pacific industries and continue our report on energy-efficient solutions for data centers. The magazine includes articles from Johnson Controls, ENGIE, ABB, Siveco, NXITY, Fengxi New Energy, Muhammad Ali, and APUEA.
Click here to read the full Magazine online   
Download: 
 [pdf 15.1 mb]
Global District Energy Climate Awards – Initiative
Launched in 2009, the Global District Energy Climate Awards recognise systems that illustrate the overall importance of District Energy (heating & cooling) in providing sustainable energy solutions.
Information from previous editions of the GDECA ceremony can be viewed in the archive section.
The International District Cooling and Heating conference in Doha in October provided an excellent possibility for networking and promoted the knowledge and technology exchange of district cooling. It was a great opportunity to present Sweden's longstanding and advanced technology in both district cooling and heating. The Global District Energy Climate Award highlighted even more the importance of what district heating & cooling can do to reduce global warming! Euroheat & Power is skilled and has a key role to drive the development of district energy forward by continuing to successfully identify relevant initiatives and support the industry outside the EU! Euroheat & Power provides top-range business and regulation intelligence, represents the interest of the DHC sector in the European policy market and provides a platform for open exchange beyond Europe. Thank you for the excellent organization - Congratulations to a very successful conference!